Spring Repair Richmond TX

Do you face any problem with your springs, and you do not know what to do? Garage Door Richmond, TX, is near you to help you. Our local mobile experts will offer spring repair & installation services.

Take Care Of Your Garage Door Springs

Garage door springs are an integral part of the operating system of your garage door. They raise the weight of the garage door and make your door open and close smoothly. They are dangerous as they can be under tension. For that, you have to take care of them. Get in touch with Garage Door Richmond, TX, to help you.
You do not know when you encounter a garage door spring problem that makes you need a service. For that, our service in Richmond, TX, is ready to offer all garage door spring services 24 hours a day in your emergencies. We will come to you fast to offer spring repair & installation services.

We can help you Now.
For any questions, be in touch!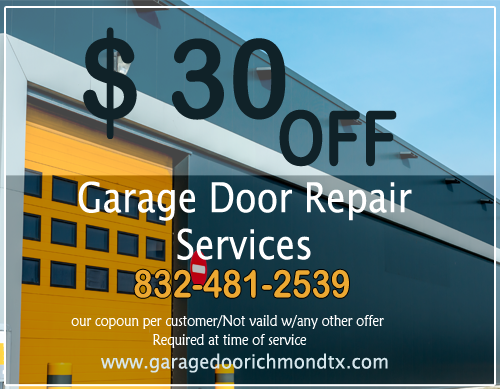 Do Not Wait To Get Your Springs Repaired!
Has your garage door stuck and not operating safely? Do you hear squeaking or excessive noises during opening or closing your door? Has your door become heavy and no longer stay open? Then you have to check your garage door springs.
You come to the right place! Our technicians in Richmond, Texas, have the experience and skills to solve all the spring problems. They have advanced tools to offer the best spring repair service. They ensure that your springs will perform the way it is supposed to be.
Our service will offer high-quality spring repair for all the brands, including Amarr and Clopay. We will give you the top and superior services you have never experienced before with our competitors. We will increase your pleasure and guarantee your satisfaction.
We Serve Wide Range Of Brands Include
Replace Springs to Avoid Any Accidents

Do you have an old or broken overhead door springs? Do you have a sound like a massive crash coming from your springs as they are worn-out? In this case, your garage door may drop and harm any person or item in its way. Contact Garage Door Richmond TX now to avoid an accident with your door.
Replacing the garage door springs is dangerous. For that, you do not have to do this job on your own. You can depend on our technicians in Richmond, Texas! They will offer the best spring replacement & installation service. They will do their best to increase your safety and avoid any accidents.
If your door is wood, electric, aluminum, custom, modern, or roll-up door, do not worry. We will offer spring repair & installation for all the types of doors at affordable and cheap prices. We will not add any hidden charges and will make you enjoy our discounts.